i know what you're missing in your life, and i'm here to bring it to you. It's FOOD IN REVIEW, mothersuppers!
It's getting to the point now where i've got such a good stable of easy, delicious recipes that you'll be seeing a lot of repeats. Instead of trying something new and different with every meal, i'm falling back on "old" favourites.
i keep everything i make in a Google Doc. Recipes we'll be making this week go at the top, assigned to each day of the week. Then links to the recipes: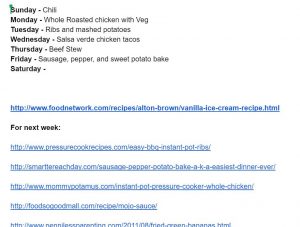 Following that, it's our grocery list split up by store section, in the order we come to each section from the front door. This allows us to open the doc on our phones, and just sweep through the store buying everything we need in order. It helps keep grocery shopping focused and fast: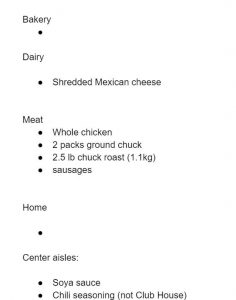 i also make sure to convert Imperial to metric ahead of time, so i'm not stuck in the store wondering what 2.5 lbs is in kg.
At the bottom of the document, i have three sections: Keepers, Never Again, and Meh.
The Never Again section keeps me from re-making a dud. It's helpful, because my memory is poor.
Most recipes go into the Meh section. At the top of the list are the Keepers, which are the recipes you're seeing on my list more and more. It's really nice to have them, because any week where i'm feeling uncreative, or i just want things to be easy for once, i can pull meals off that list.
Sunday: Leftover crack chicken
i've mentioned before that making chili on a Sunday night is a really solid habit, because it usually makes a metric buttload (which is equivalent to an Imperial fucktonne), and then you can just warm up a bowl for lunches or emergency life-happens dinners as needed.
The problem this week was that because we shopped late on Sunday, the grocery store ran out of ground beef. All they had left was that weird ground beef in a tube, which for some odd reason grosses me out (but i'm perfectly happy to eat sausages, or "bags o' mystery" as the Victorians called it).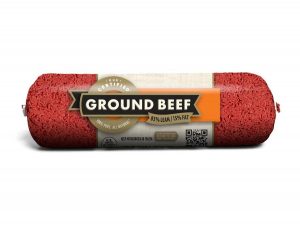 The plan was to grab beef from another store on the way home, but we had a really active day at a festival the day before, and we were sleepy. i was hungry and drove home like a zombie, and found myself back in my living room, exhausted and beefless. We ate leftovers instead.
Not having chili to fall back on kinda threw the whole week out of orbit. i aim to get it right today by shopping earlier and brewing up a big pot.
IMPORTANT: in posting that beef-in-a-tube picture, i just learned that that's called "chub packaging," and that it's okay to store in your fridge for up to 21 days. GROSS.
Monday: Whole roasted chicken with veggies
i'm sticking to my guns on this one: whole chickens are better in the slow cooker than in the Instant Pot.
Also, something went weird with this one, and the veggies Cheryl had placed beneath the chicken came out saltier than a stub-toed sailor. Really weird.
And the picture on the recipe is a lie. That's a staged food shot. i can't stand lying recipe photos. How are you gonna pitch an Instant Pot meal, and then show a picture of a browned chicken in a casserole dish? Mommypotamus, you are dumb and should go to jail.
i AM very excited now that i have a chicken carcass and can use the Instant Pot to make some bone broth. There's a Mexican Beef recipe on a site called NomNomPaleo that uses Instant Pot home made bone broth, and it's been on my list for weeks.
It might have been NomNomPaleo that extolled the virtues of bone broth. i had no idea that the collagen from bones helps with inflammation. As someone with an inflammatory disease, i'm excited to try it out.

Tuesday: Salsa Verde Chicken Tacos
Still my favourite recipe in the Instant Pot. i could make this one in my sleep. And now that my freezer is full of nixtamal tortillas from La Tortilleria, i can throw this together with guaranteed ease and deliciousness any time.
(To be honest, i forgot to thaw the tortillas, and Cheryl bailed my ass out by grilling them on the stove for me)
Wednesday: Wendy's Instant Pot Copycat Chili
It was hump day before i finally made chili, and when i read the recipe more closely, i realized i had been putting in double the required amount of ground beef. i reigned it in, and the results were… not nearly as good as they had been before.
The recipe author also warned against using chili seasoning with too much filler in it. i compared the Old El Paso and President's Choice brands. OEP's first ingredient was maltodextrin. i don't know what that is, but it screams "filler" to me. First ingredient in the PC pouch was "spices," so i grabbed that one. Really, i should just be spicing it using my own blend, but these days, the lazier the recipe is, the more likely i am to make it.
If you wanna try this chili, use two pounds of beef instead of one. It's gonna seem like way too much celery (6 stalks??), but it works out great.
(our kids heat the chili up in the morning and take it to school for lunch in a regular tupperware container, because they don't understand thermodynamics. Anyway, point is that they enjoy it as an alternative to sandwiches)
Thursday: Instant Pot Beef Stew
This was supposed to be the recipe we'd come to know and love, but the author has tweaked it recently, and it's nowhere near as good as it used to be.
It was formerly a rich, tomato-y stew. The new version is a lot more soup brothy, and it's not as stick-to-the-ribs as it once was. i hope we can find the earlier iteration.
Cheryl bought a chuck roast and cut it up, but i really recommend spending the extra buck or two and buying a pack or two of stew beef cubes, which is the same meat, but the butcher has spent time carving it all up. We've found it takes about 20 minutes to cube a chuck roast and get all the big bands of fat out of it.
Friday: Sausage, Pepper, and Sweet Potato Bake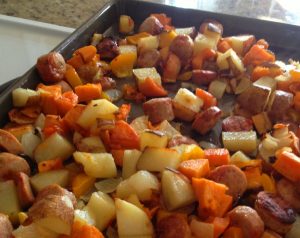 i laugh when i see the recipe author say that this is "AKA Easiest Dinner Ever." Since we started using the Instant Pot, we've made very nearly every single evening meal in it. i can count on one hand the number of dinners we've made without the IP, and this is one of them. In the past, i might have considered this an easy dinner, but compared to these Instant Pot recipes, this one feels like i'm building the goddamn pyramids.
Cutting sweet potatoes is HARD. We finally have a sharpish knife that makes it go a little smoother, but it's basically like reading the instruction "Chop four boulders using what little upper arm strength you possess into 1 inch cubes."
This recipe is delicious, make no mistake, but i think it's helped along a lot by the huge glugs of olive oil you add to the pan. The recipe says "drizzle." Maybe it's because i have a very loose amount of limb control, but i cannot "drizzle" oil from that bottle. It has two modes: "off," and "firehose."
Recipe says to use pre-cooked sausages. i used uncooked sausages and grilled them before adding them to the pan, but some of them came out too cooked. i think i might add them to the pan uncooked next time, because 45 minutes at 400 degrees should be more than enough to cook them … it's just really tough to cut uncooked sausages into discs.
Also: who are you trying to impress, lady?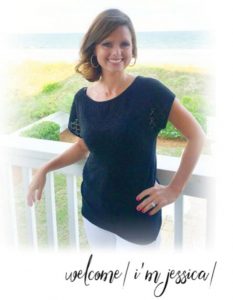 Looking like the woman who does bi-monthly vocal solos in church doesn't make me more likely to want to cook your sausage recipe.
(she's SO GLAMOROUS! She could be on FALCON CREST!)
Step 1: Cut a package of pre-cooked Jimmy Dean sausages into discs.
i DIGRESS
Saturday: Ribs, Broccoli and Mashed Potatoes
We had some friends over to play board games last night, and i thought i'd cook some more of the SKID OF RIBS we bought at CostCo.
i was a little disappointed in the sauce i'd chosen. i wanted sweet, sticky honey garlic ribs, and what i got was barbecue sauce ribs from a bottle that said "honey" on it which, sadly, lied.
The ribs were capable. The mashed potatoes were healthier than usual, because my friend Sarah is lactose intolerant, which means i had to skip the butter, sour cream, and cheese that i usually sneak into the bowl when i whip them up with my stand mixer.
Curiously, they tasted a lot more like mashed potatoes. My mashed potatoes usually taste like … starchy cheese. Go figure.
This week! What's up?
i dunno. i think i've tapped out all of the searches for "best instant pot recipes" on Pinterest and Google. i might cruise around the sites of the recipe authors whose meals i've enjoyed to see what else they can offer.
If you know something i should make — ESPECIALLY IF IT GOES INSIDE A MAGIC LITTLE MEAL POT WITH MUSICAL CHIMES AND FUN BUTTONS TO PRESS — let me know!
UPDATE
This just in: NYTimes reviewed the Instant Pot, and complained (like i do) about the whole chicken: