It's this week's Food in Review! Cheryl came grocery shopping last week, and the bill was astronomical. i don't know why that happens. But when i shop alone (with help from the kiddles) it's like a surgical strike: we get in, we get out, and the groceries get assassinated with the least possible collateral damage to my wallet.
If you have recipes to share, throw em up here. i'm planning meals for this week.
Saturday: Chicken noodle soup
Cheryl put this together. i thought it tasted perfectly chicken noodle soup-y. Our guest thought it was horribly bland. i don't have the recipe, but it's something like
Bring all ingredients to a boil in a pot. Serve hot.
Sunday: Sandwiches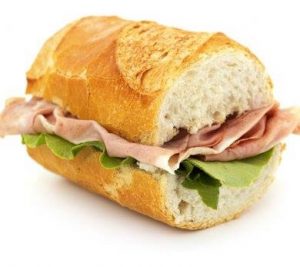 This was the best meal of the week imo. We just bought a bunch of sandwich stuff and threw it out on the table, then scarfed everything picnic-style. We'll definitely do this again this week.
We've discovered piri-piri chicken at the deli counter. It's scrumptious. Put that on an Ace Bakery demi-baguette with some applewood smoked cheddar and you're gonna have a good time. i've never been to Nando's (piri-piri chicken evangelist restaurant) but i'm determined to go there for my upcoming birthday dinner to find out how the stuff tastes when it's hot.
Monday: Best Damn Chili
i don't put the booze in… i don't cook with alcohol, but i never know what to substitute (Pui-Yee Ho Cheng … i'd like to make your beef stew, but unsure how to comp for the wine). Anyway, this is a good, spicy chili recipe. The yield is a little low. i like having chili for days.
i forget to add the kidney beans every. Single. Time.
Tuesday: Korean Beef Bowl
Cheryl made this while i was out organizing Puzzled Pint Toronto so i didn't get to try it, but i remember liking it the first time we made it. It's one of these quick-and-easy approximations of a recipe that, made properly, takes a lot of time. i think it's supposed to be like a pseudo-bulgogi.
Wednesday: Butter Chicken
My Indian cooking losing streak continued with this dish. i should have used ghee instead of oil, and i should have used heavy cream instead of coconut milk (even tho the recipe is trying to be healthier with that substitution). i tried this, and it was as bland and tomatoey as any other Indian dish i've flubbed.
… but then i added salt, pepper, and sriracha sauce, and it was AMAZING. i ate two bowls. It was super great. Try it.
(i will say that one weird instruction was to cut the chicken into 2 inch cubes. i usually cut it a lot smaller, but i tried two inches, and it was good. Would cut again.)
Thursday: takeout
Cheryl was working late, and i couldn't be arsed. i hope to enjoy a week soon where, every night, i CAN be arsed.
Home-made Pizza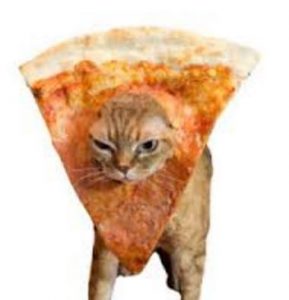 This was an eat-late, last-ditch thing. We had some great cheese (bocconcini and feta), but no time to let a supermarket dough ball thaw, so we grabbed a disgusting pre-made shell. It was horrid, really. But even the worst pizza is better than most meals i've ever had.
i would eat it on a log. i would eat it with a frog.