So we're staging our condo this week in anticipation of a Big Move in August, which i'll write more about once the Xanax kicks in. When we arrived here 10 years ago, the previous tenant had renovated the kitchen and bathroom, installed new window blinds (in contravention of the building's "whites-only" rule about window coverings), and upgraded the appliances to include a stove that will boil water in under 45 minutes, provided you simultaneously build a fire offering to Baal.
The last step in her upgrade plan, before she apparently ran out of money, was to install the carpeting. For this, she chose a low-pile, scratchy, indoor-outdoor grey material that would look right at home in a U-Haul office. This is the kind of carpet that produces those spiky little skin tags on your big toes when you walk around on it too much. Then you pull on the bits of skin to remove them, but you end up ripping entire strips off your toe like you're undressing The Mummy. This is the kind of carpet that our cats quite rightly assumed was meant for sharpening their claws. And so they did, until sections of the floor looked like an abandoned enrichment toy from the polar bear enclosure.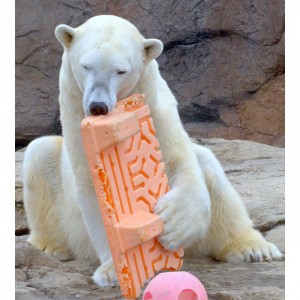 After she had made all these … improvements … to the place, the previous owner discovered she was in poor health, and had to sell. (i, for one, blame the carpet.)
Soft Sell
Now it's time for us to sink a little cash in the place to make it presentable to its next owners. It's going to be very hard to leave here. As a society, we don't tend to ascribe warm-fuzzy sentimental feelings to condos. Condos are the domain of hard-driven career-minded yuppies, like Christian Bale's American Psycho character. Condos are what foolish home-owners buy, when all the intelligent people are out spending three quarters of a million dollars on ramshackle Toronto houses that will be perfect, once they pay to replace the roof, the walls, the floor, and every other element that makes them, technically, houses. Sentiment is reserved for houses on tree-lined streets. You can't have sentimental feelings about a 750 square foot condo.
Except that this is the room where both of my children were born.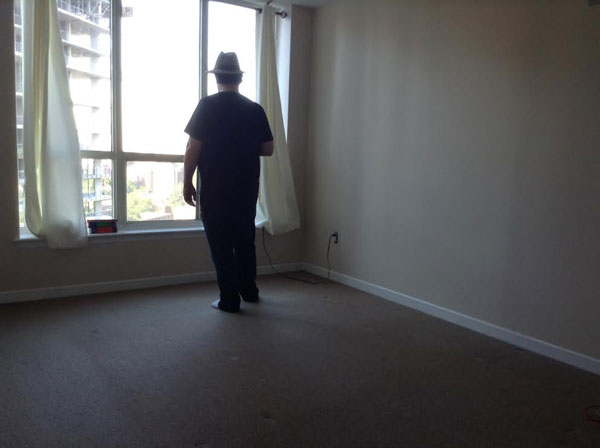 Matching the Drapes
Prevailing wisdom also demands that when upgrading your condo's flooring, you have to go with laminate or hardwood. HAVE to. That's what everyone wants. That's what American Psychos prefer. Forget the fact that no matter how thick your underpadding, the people in the condo below you are treated to an amateur tapdance recital every time you walk around your place. Forget that hard floors accumulate pubic hair tumbleweed like a porn parody of For a Fistful of Dollars.
In fact, let's talk about porn and pubic hair for a moment. What happens when people film themselves and each other having sex is that they need to push boundaries to keep it interesting, because porn quickly becomes uninteresting. Then porn innovations filter out into the mainstream, and before you know it, soccer moms everywhere are taking double penetration out for a spin. One of the "interesting" developments of early 90's porn is that ladies, and eventually men, started trimming their pubic hair down from the glorious free-range triangular undergrowth that once spread luxuriously to each hip, to bald little mounds with "landing strips" that made everyone's junk look like an R-rated Mr. T.
From there, it was an easy transition to waxing, shaving, or electric shocking the offending short-n-curlies off completely. Magazine and video descriptions of ladies with clear-cut natural flora often included the word "clean." That's what it comes down to, i suspect, for a lot of people: pubic hair is dirty. It looks dirty, and it probably traps a lot of dirt and crumbs and small objects and Lord-knows-what-else. It's why denuded vampires are characterized by a refined, civilized sexuality, while werewolves are wild, savage, and infinitely less popular. The best, most sanitary thing to do is to take it off.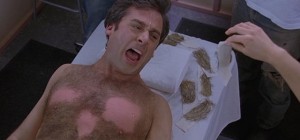 Hardwood, by extension, was never really the "in" thing until very recently. Lagging porn by about 10 years, it went from being a nice-to-have, to "omigod are you actually thinking of installing carpet instead of hardwood?" In the aughts, people would install hard floors, but they couldn't completely divest themselves of the comfort of carpet, so they'd blanket the hardwood in throw rugs. Throw rugs: the interior decorating analogue to pubic hair landing strips.
Sometimes those throw rugs would be heart-shaped. Am i convincing you yet?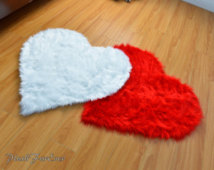 I've never been accused of being new-school. I am possessed of a thick, rich bounty of public hair that looks like I'm covered in multiple Ron Swanson moustaches. And we've installed new carpeting in the condo, dammit. It probably traps a lot of dirt and crumbs and small objects and Lord-knows-what-else. But like pubic hair, it's warm and comforting, like a cozy hug. And it feels great to squish your toes in it.