Now that my NDA obligations are out of the way, i can talk about the project i completed with Shaftesbury/Smokebomb and the CBC for the teevee show Murdoch Mysteries (or "The Artful Detective" for my American pals).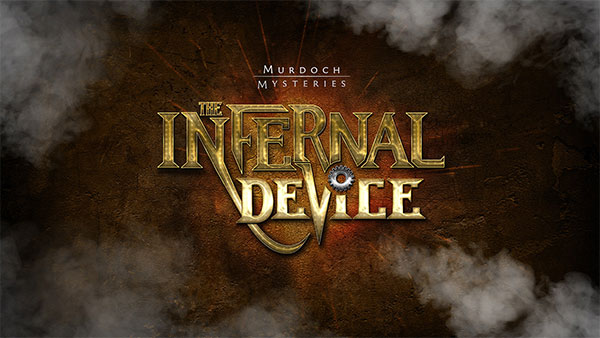 Hot on the heels of becoming a live escape game owner at LockQuest and a volunteer with Puzzled Pint, i was hired on as the game developer for The Infernal Device, a six-week alternate reality game set between seasons 8 and 9 of the show. Each chapter of the game took place on successive Saturdays in a different Canadian city. What started at the roundhouse in Toronto with a dead body on the railway tracks, continued in Vancouver, Edmonton, and Montreal.
Chapter 5 was staged in London, England.
(Note: it's SUPER frustrating as a Southern Ontarian trying to humblebrag that you're going to London, because everyone automatically assumes you're talking about London Ontario, which is about the least impressive place you could possibly travel. Bizarrely, if you tell people here that you're going to Paris, absolutely no one clarifies "Paris Ontario?", which is also a thing.)
Oh, the Places You'll No Longer Be Able to Go
Ten years ago, my wife Cheryl and i were planning our last (and only) great pre-kids vacation in Europe, when we discovered that she was 4 months pregnant. We put those plans on hold, deciding instead to tour the poor man's English countryside here in the Canadian maritimes. Two kids and ten years later, i never thought i'd actually make it to Europe, and i knew that i would never be allowed to travel there without Cheryl.
i've been on solo business trips to Moncton, Seattle, Boston, Los Angeles, and San Francisco in the intervening decade, but Europe was so verboten in our relationship that i've actually had nightmares of touching down in a plane in England and screaming from fear and guilt because Cheryl wasn't with me. So when i learned i'd be travelling there for the Murdoch gig, priority one was buying Cheryl a ticket!
She arrived first class.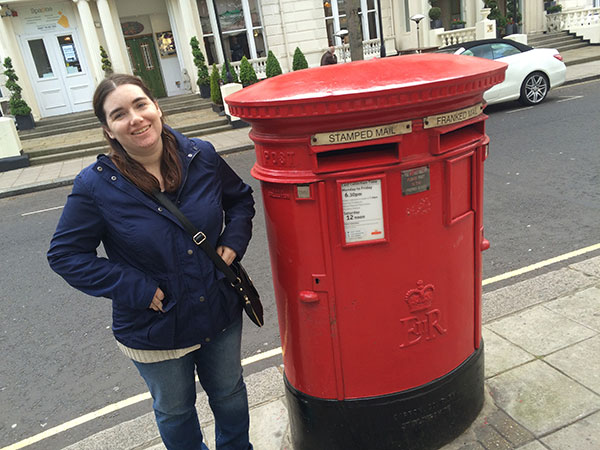 We worked with a fun production company in London that has shot a lot of Bollywood stuff. They're used to picking up dazed and confused people from Heathrow. Here's the driver, Aziz. i just had to take a picture, because it's the first time i've ever had the meet-a-guy-at-the-airport-with-your-name-on-a-sign experience.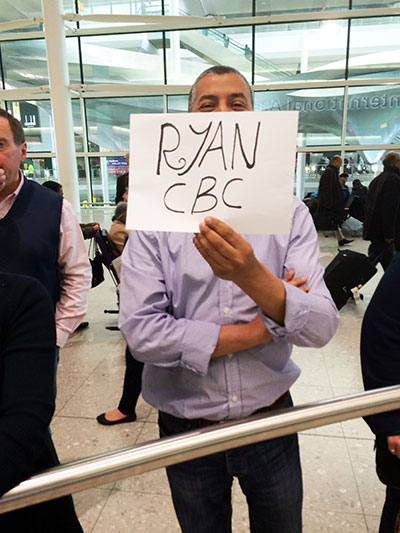 A communication error led them to believe that i worked at the CBC, a misconception that was quickly cleared up once we got down to business.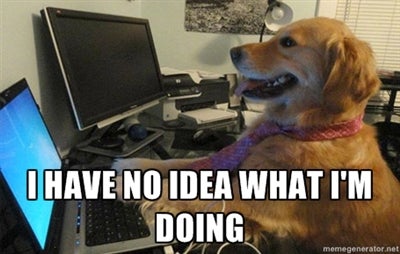 Rogues Gallery
In Chapter 5 of The Infernal Device, players (roleplaying as investigators) have tracked a man named Horace Echolls, a rogue Canadian scientist who's building a superweapon, to London. (We decided very early on not to use the b-word-that-rhymes-with-"Mom" during production, to make it easier for us all to fly on planes later … but my browser history is likely enough to earn me a 20-year stay at Guantanamo by this point).
The CBC licensed a marker-based augmented reality app called Aurasma for the game. i had players infiltrating a network of criminal scumbags through central London, scanning a "Scoundrels' Sigil" that would help them find the secret hideout of Our Villain. The cast of creeps included a fence, a snake oil salesman, a phrenologist/fortune teller, a "blind" beggar, and a supposed explorer. Here are some of the cast members in costume: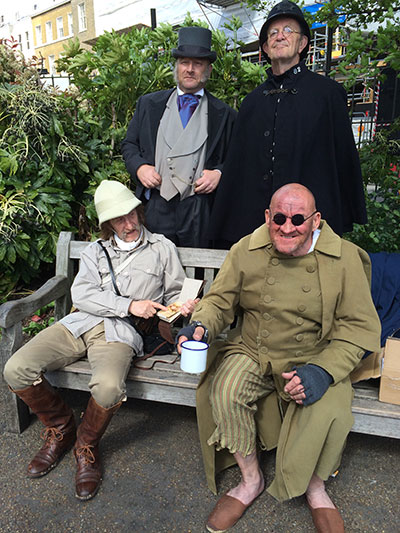 My friend Mike Doucet recommended me for the job, which was already in full swing by the time i joined up. This is me posing with him in the hotel elevator, in the first selfie i ever took with my new phone (the first working cell phone i've ever owned, which i bought for the trip). i'm making a duckface, because it seemed natural. i also took it at a low angle, because apparently i like the way it makes me look enormously fat.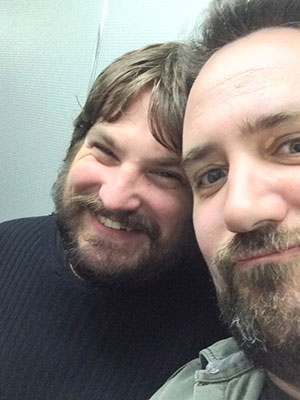 i had previously worked with Mike-Doucet-the-eager-intern at Untold Entertainment, after which he became Mike-Doucet-the-bigshot-videogame-producer-who-won't-return-your-phone-calls. But the joke was on him, because for this gig he had to carry a gigantic ceramic phrenology bust in his carry-on.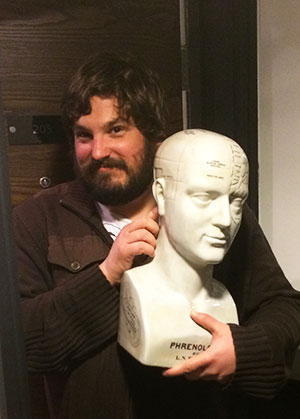 The team had asked if i could make our phrenological fortune teller into a palm reader for simplicity's sake, but by that time i was so married to the concept that i caused a mad scramble on the set of Murdoch Mysteries to find one of the busts they had on-hand. The best part is that once we got to London, we were positively tripping over phrenology busts everywhere we went, from Portobello Road (which i knew from Bedknobs and Broomsticks) where we bought a more economy-sized bust from a fellow who sounded like Michael Caine and looked like Wallace of Wallace & Gromit, to the West end district, where we found at least one bust in literally every store we visited. i took pictures of every phrenology bust i found and sent them to Mikey to annoy him.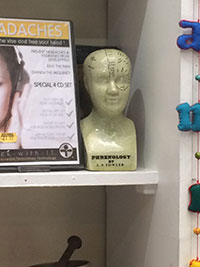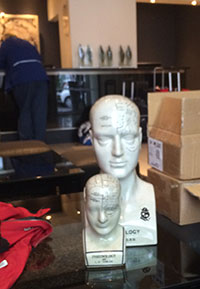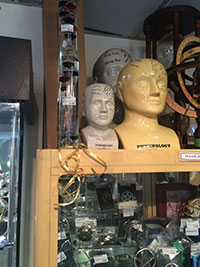 We three amigos posed briefly outside the hotel for this ill-advised low-angle shot…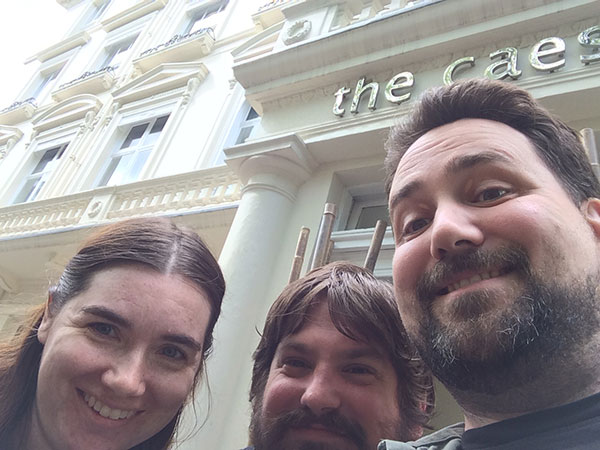 … but, sensing danger, Cheryl quickly faffed off to Bath for a couple of days. This is the picture i took of her in case i needed to file a missing persons report with the police: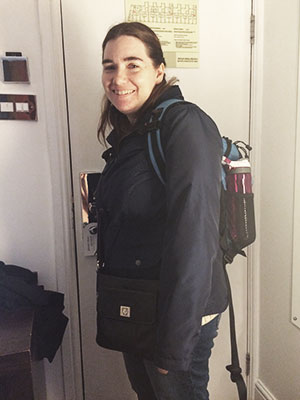 Cheryl's absence left me to explore the eccentricities of London alone, which included the complete absence of stop signs, and plenty of car merry-go-rounds. i made repeated attempts to get car-murdered by stepping out into the abundant traffic without first looking in the direction their cars were actually coming from.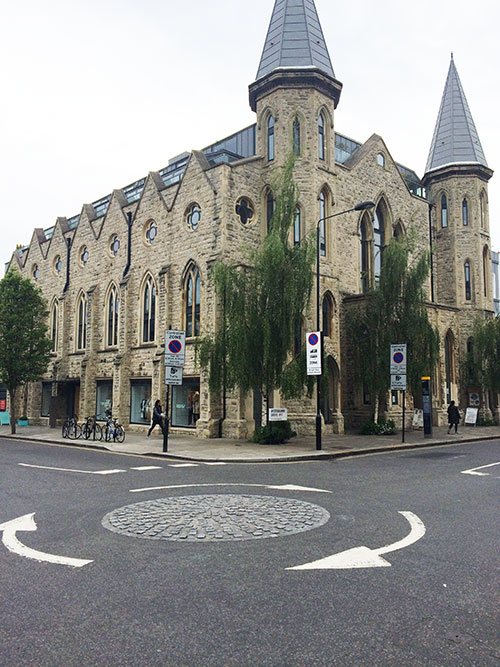 i didn't shoot this particular roundabout because of the beautiful old church in the background; it was just impossible to take a picture of anything without a beautiful old church or park or rowhouse muddying up the shot.
The barbed wire looked expensive, ancient, and painful. In North America, the barbed wire is sort of like a deterrent, but persistent thieves are bound to get some mildly torn clothing if they take it on. In England, the barbed wire will bloody well disembowel you if you try to climb those walls.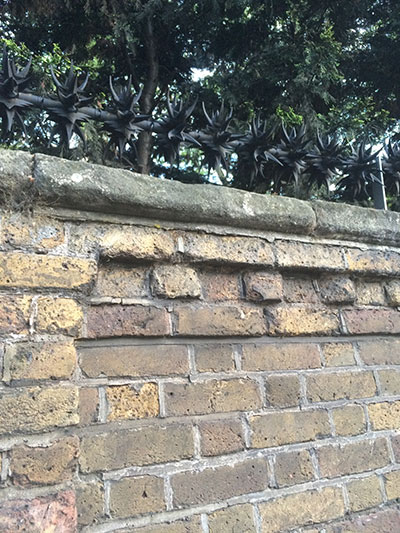 Our hotel was built into some Victorian row houses, up the street from where James M. Barrie once lived. It was all so impossibly British. This is a picture i tried to take outside a private school because i loved the girls' adorable little boater hats with ribbons on them, like in Madeline.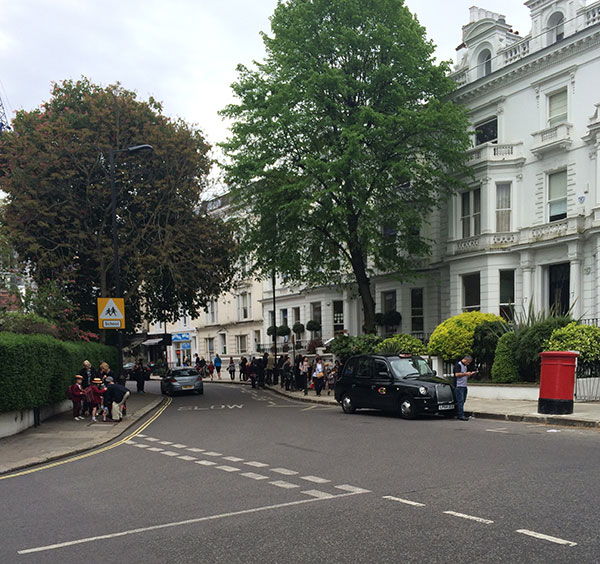 This, despite a mortified Mike, who was worried i'd get arrested for taking pictures of kids. i assured him that taking pictures of people out in public was perfectly legal, and then remembered that it was perfectly legal in London Ontario, but perhaps not in London England. Anyway, there were enough cameras watching me all over London that i thought it was reasonable enough to snap some photos of my own, and the dads at the school looked weedy enough for me to take two or three of them simultaneously in a scrap.
Michael was very conscious all the time about how people were perceiving him, and would get intensely embarrassed whenever we'd enter a shop and i'd shout "HULLO WHAT'S THIS THEN PIP PIP GOV'NER I'll 'AVE THE LOT." Personally, i felt he was being too uptight.
Speaking of uptight, here are the residents of Camden getting their knickers in a knot over "itinerant ice cream trading" on Bloomsbury Street and elsewhere. i couldn't think of anything more British if i were eating crisps in the boot of an aluminium lorry while blokes had a butcher's at my pants.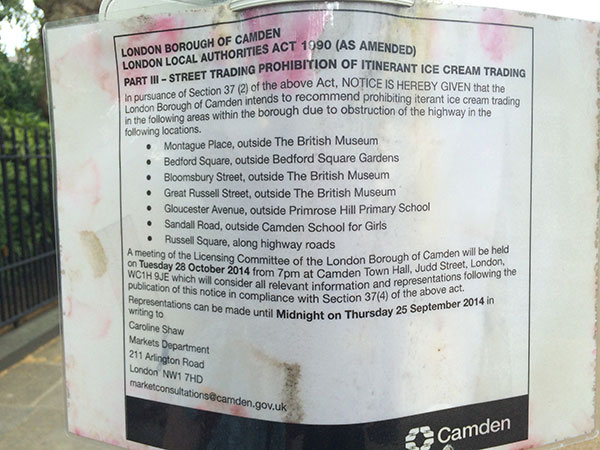 That notice went up last year. But when we visited the British Museum, SPOILER ALERT – itinerant ice cream trading carried on unmolested.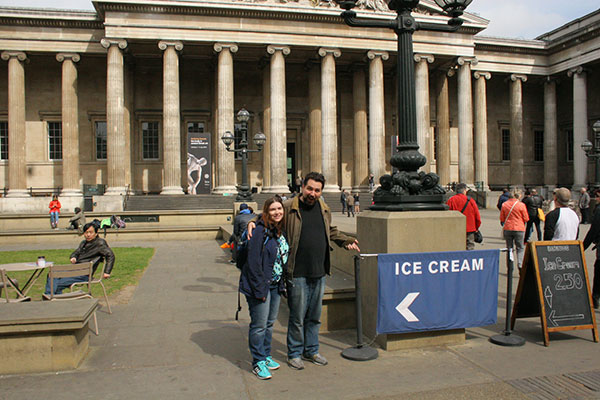 The day of the event was exciting! Here are a few backstage shots of some of our scoundrels having their hair and make-up done and getting their kit on hullo what what jolly good: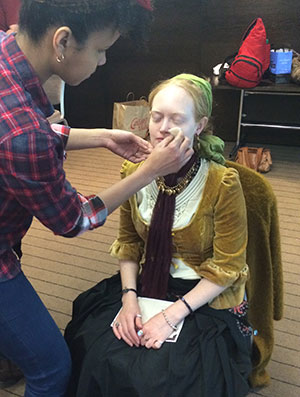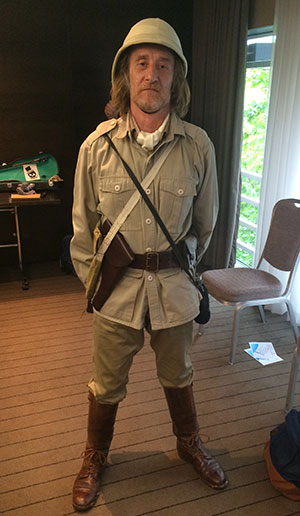 The guy playing Lowly Pete the "blind" beggar was wonderful. We had him up on Tower Bridge begging for change with a tin cup. If anyone gave him money, he was supposed to flip the coins back to them as suspected counterfeit, because they weren't from the 1902 setting. By the end of the day he was up a few pence, which the production company let him keep as a tip for a job well done!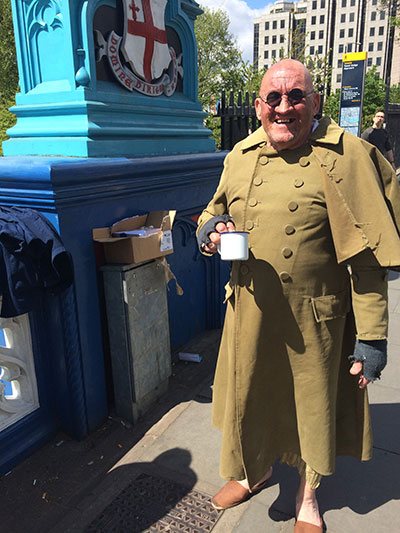 Another stand-out was the guy playing Bill the Shill, who expertly improvised a routine trying to sell assorted crap out of a busted violin case, which he claimed once belonged to "Queen Victoria herself." Curiously, everything he had once belonged to Queen Victoria herself!
Here's Dr. Daventry, hawking his "Miracle Cure-all" (which smelled a lot like whiskey) to some players near the gigantic Head of Invention statue on Butler's Wharf: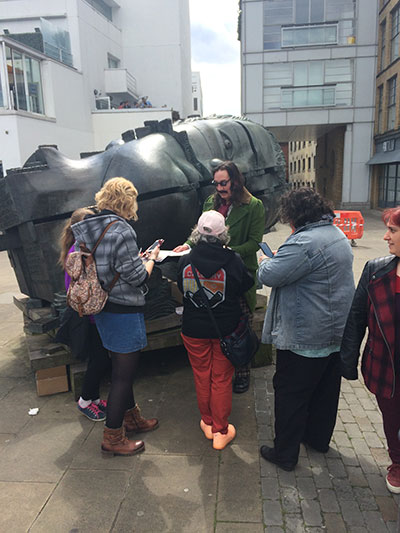 In this picture, David, who worked with the production company, att-THAMES to solve one of my puzzles i AM THE BEST AT PUNS ALL MUST BOW TO ME: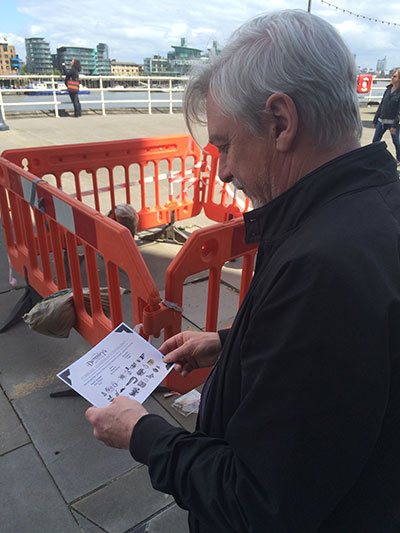 All My Heroes are Bearded
A day earlier, in the hope of endearing ourselves to the locals, Mike and i went on at length about our favourite UK actor, Matt Berry. You know him as the lecherous replacement boss Douglas Reynholm on the IT Crowd. He was also the innkeeper in AD/BC, and Dr. Lucien Sanchez in Garth Marenghi's Darkplace. This is Matt Berry in a nutshell:
He's basically a legend, and Mike and i went on and on about him – Matt Berry this, Matt Berry that. But the Londoners we spoke to were a bit fuzzy on him.
So as i'm leaving Dr. Daventry at his post, i see this guy walking along the Thames on his cell phone, and i think "holy crap, that's … that's Matt Berry!" i didn't quite slap the phone out of his hand and give him a big hug because i'm not a total douchenozzle, so instead i decided to stalk the man to make sure it was him. i had to get reasonably close to hear him on the phone, and by then, i could make out his trademark vocal swagger. It was Matt Berry, for sure.
Oh man. i was freaking out. But where was Mikey? And would he ever believe me? i took a snapshot of probably-Matt-Berry's back as proof: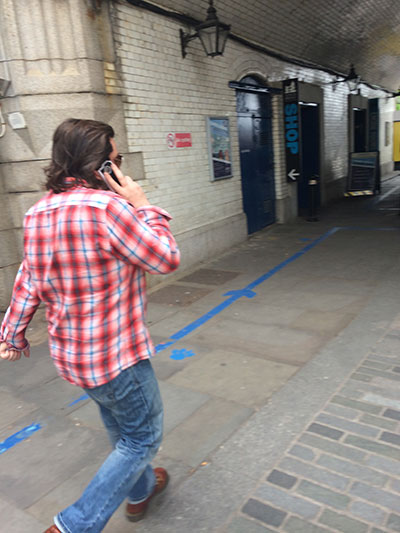 But i knew that wasn't good enough. Mikey would say "yeah, that guy's back looks like Matt Berry's back all right." i couldn't just leave it at that.
i tailed Matt Berry all along the Thames to the next station in the Infernal Device scavenger hunt. By the time i had reached the station with our fortune-telling phrenologist, i was madly pointing at him and silently mouthing "MATT BERRY! IT'S MATT BERRY!! OPEN YOUR EYES IT'S MATT FLIPPIN' BERRY!" To which the Londoners assembled for the game replied "… who?"
Indeed, Matt Berry was presently strutting his way into a Polish cultural festival near the Tower Bridge, and no one had yet mauled him to tear off a strip of his shirt and keep it in a jar and take it out on special occasions just to smell it a little. Perhaps Matt Berry was a much bigger deal to Mike and me than he was to his own people? A prophet without honour.
i tried to play it cool with the people at the scavenger hunt as Matt Berry was engulfed by the Polish festival crowd. A few anxious toe-taps and failed calls to Mike went by before i blurted HEY DO YOU GUYS MIND IF i TRY TO CATCH UP WITH MATT BERRY?? They shrugged disinterestedly, and so off i went.
i plowed through the crowd of flower wreath dancers and perogie eaters and found Matt Berry on the far side, strolling past hundreds of people who criminally didn't recognize him (or who were far more polite than i was). At last, he had ended his cell phone call, and i seized my chance.
HI EXCUSE ME i PROMISE i NEVER STALK CELEBRITIES LIKE THIS BUT YOU'RE AN EXCEPTION BECAUSE YOU SEE MY FRIEND AND i? FROM TORONTO? WE LOVE YOU AND WE TRAVELLED ALL THE WAY HERE AND SPENT ALL DAY YESTERDAY TALKING YOU UP TO PEOPLE AND IF i GOT JUST ONE PICTURE OF YOU MY FRIEND WOULD ABSOLUTELY LOSE HIS MIND AND
And Matt Berry, being the patient, consummate professional that he is, allowed me to take a picture with him. And goddamn it, i took it low-angle again.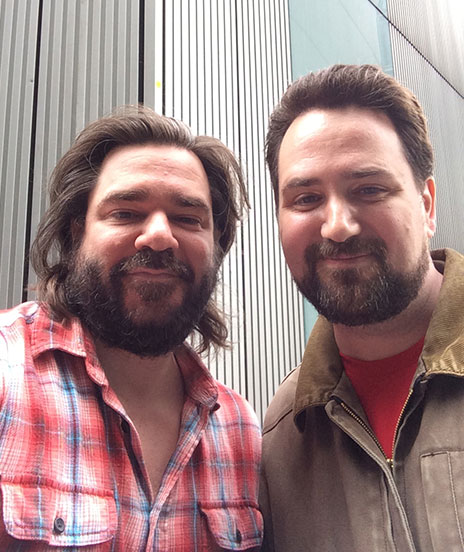 Mike, predictably, lost his entire mind. i almost didn't want to write this post for fear of rehashing the psychological damage he suffered from not getting to meet Matt Berry. But it was Matt Berry. i met Matt Berry, and here is the photo evidence.
Wasn't Mr. Hyde the Unpleasant One?
The rest of the trip ended with a little of the usual sight-seeing, and a missed opportunity to see Katzenjammer in concert (we worried we would miss the early flight the next morning). We played an escape game called Time-Run, which was pricey, but highly recommended! And i must be getting old, because we spent a lot of time relaxing in parks.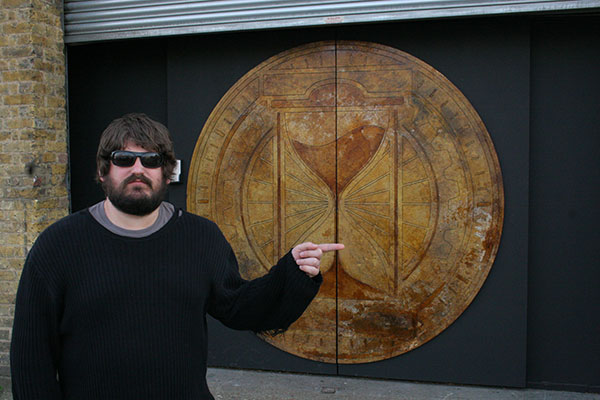 The one thing London gets extremely right is its parks. i returned to the sick, sad little pubescent patches of grass-on-dirt that pass for parks here in Toronto, and pined for the majesty of Hyde Park in full bloom: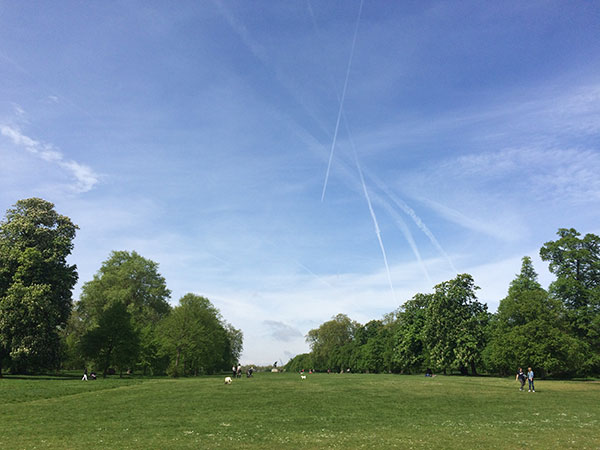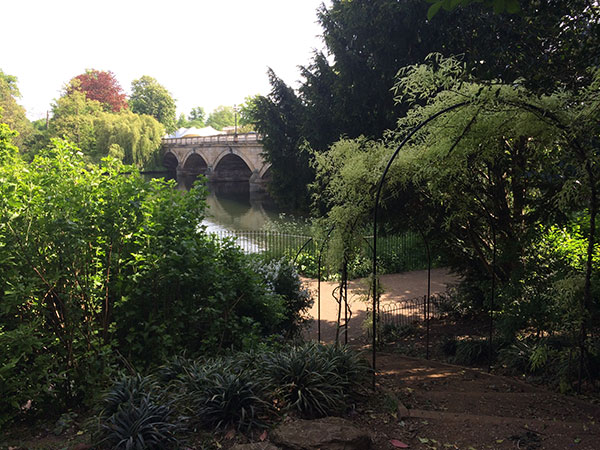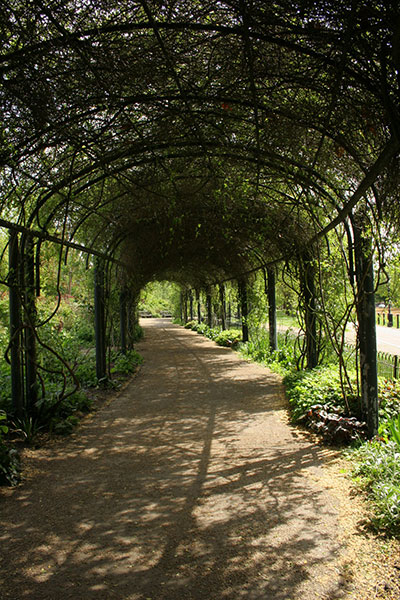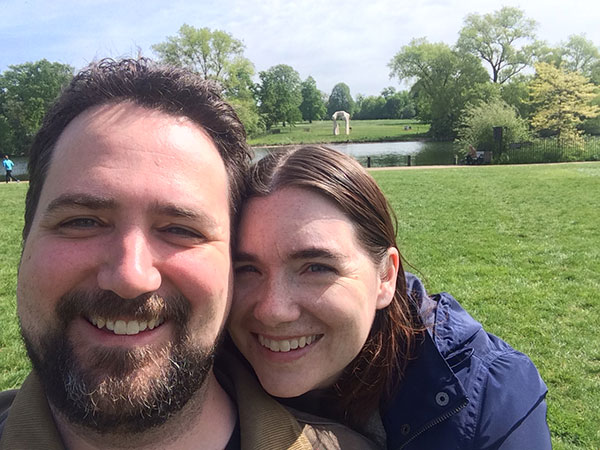 Blood … Blood… HIS blood… and Bits of Six
Returning home on Tuesday, we had very little time to put the finishing touches on The Infernal Device Chapter 6 by that Saturday in the Distillery District of Toronto. Everything, from the laughably anachronistic New Orleans brass band (who were jumpin') to Peter Keleghan's delicious straight man routine as Terrence Myers (despite my script's silliness), to the terrific old-school magic act reprised by the Amazing Sheldon from Chapter 3 in Fort Edmonton, came together to make it a fabulous event.
I posed for a photo in front of the Infernal Device itself, alongside Mikey, PR gal Emily, and propmaster Craig, who put the wonderfully steampunky piece together.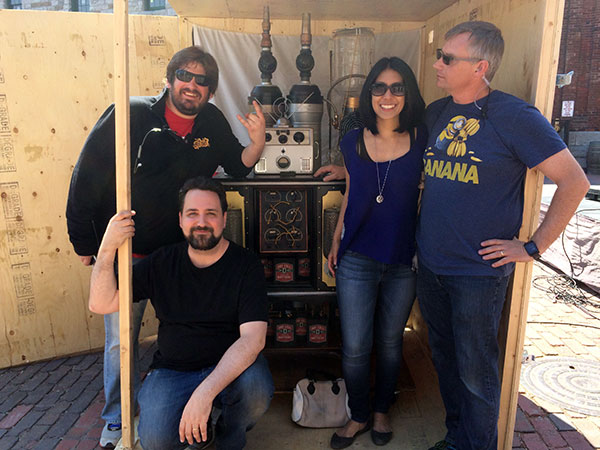 The trip to England was great and all, but after a week in claustrophobic, pedestrian-hostile and Matt Berry-infested territory, i was Londone.
But the puns? The puns shall live forever.